Looking for Homeschool Days Tickets?
Anderson Farms will be limiting ticket sales daily. We recommend purchasing tickets online to avoid being turned away at the door.
We expect many dates will sell out.
Children 3 & Under are FREE
Fall Festival Admission is included with your Terror in the Corn Ticket Purchase
Tickets go on sale Saturday, August 12, 2023 at 10 AM!
Weekday (Monday-Thursday): $17.00
*NEW* Anytime Entry (Date Specific):  $27.00
Weekend (Friday-Sunday): $28.00
*NEW* Anytime Entry (Date Specific):  $38.00
Kids 3 & under: Free
Timed Entry, Date Specific:  Anderson Farms is working to make sure every guest has a great experience this Fall!  One way for us to do this, is to limit the number of guests entering at one time.  Fall Festival tickets designate a 30 minute entry time-block.  Guests may enter the farm any time within the 30 minute time-block on their ticket.  Once inside, guests may stay on the farm as long as the farm is open.  Same day re-entry is allowed with wristband.
Anytime Tickets, Date Specific:  We understand that some guests would like to have additional flexibility.  A limited number of tickets will be available each day that will allow the ticket holder to enter at any time during the date listed on the ticket. 
All Ticket Holders: All ticket holders MUST stop by the ticket booth to have online tickets validated and exchanged for a wristband. Buying tickets online ensures you can get in and helps get you inside the gate faster. 
2023 Pricing:
Thursday: $39.00
Thursday Quick Pass: $54.00 
Friday or Saturday: $42.00 
Friday or Saturday Quick Pass: $57.00 
Sunday: $41.00 
Sunday Quick Pass: $56.00 
Platinum Pass: $130.00
Platinum Pass: Immediate access into Terror in the Corn, Collectible Platinum Pass & Lanyard, Terror in the Corn Swag Pack (Exclusive Beanie, Key Chain, Koozie, Lapel Pin, Magnet, Phone Wallet, Sticker, and Terror in the "Candy" Corn Wax Melt!) $165.00 Value
Quick Pass:  A Quick Pass has a separate entrance that allows you to bypass the general queue area.  This will not eliminate your wait on busy nights, however it will expedite the time it takes to enter Terror in the Corn.  This line will be shorter but is still a Timed Ticket and is limited to avoid congestion and long waits.  
All Terror in the Corn, Terror in the Corn Quick Pass and Platinum Pass tickets INCLUDE Same Day Anytime Admission to Fall Festival. Come early and enjoy the other activities offered at the farm!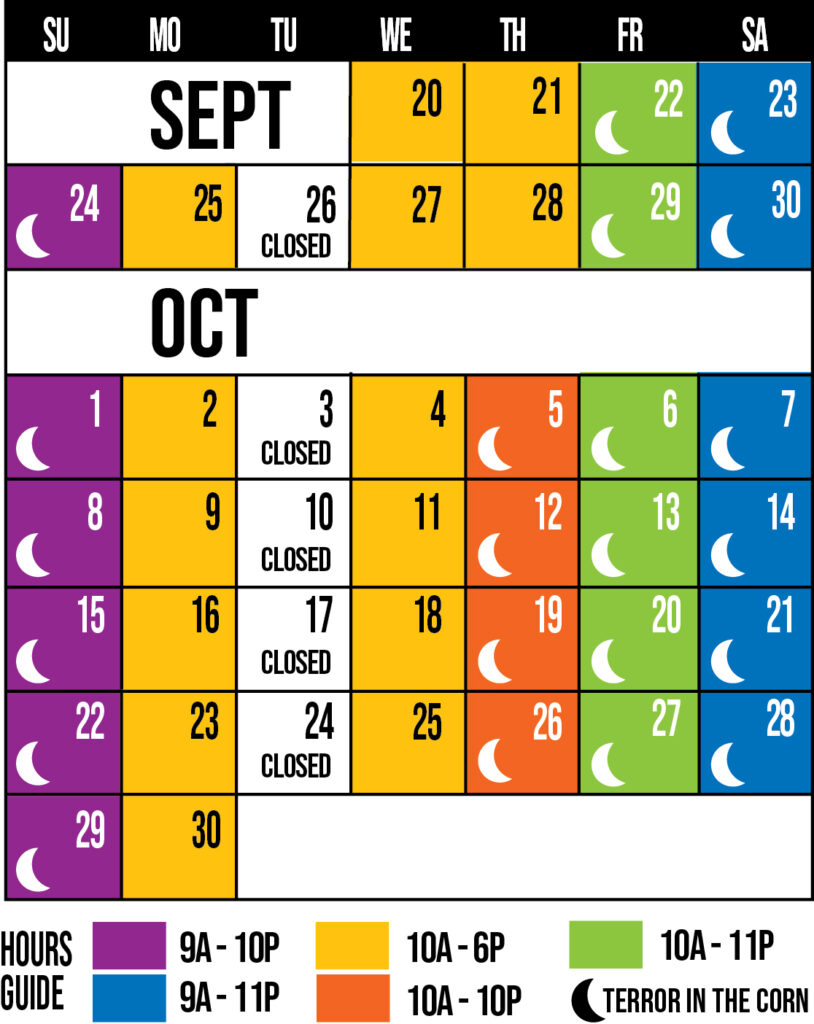 Use Promo Code Earlybird to receive $5 off per person on admission when visiting September 20th – October 5th. 
*Not valid on Field Trips or Homeschool Days
Need to Reprint or Reschedule Tickets?
-Then select "I need to print or reschedule my tickets" then click the "continue" button.
-This screen will verify some of your information to reference your order and then click "submit".
-Next click "Print tickets."
-On the next screen your tickets will appear. Look on the upper right and click "Reschedule your tickets."
-Then this will take you to the reschedule screen and you will be able to reschedule your tickets. Make sure to click "save and reprint". It will help our ticket booth staff if you are able to print the ticket, if not please pull them up on your phone and take a picture of each ticket/purchase. Our staff must scan all tickets in exchange for the wristband to get in or purchased item.
-You can reschedule your tickets up to 24 hours BEFORE the event. 
If you need further assistance, please email us at info@andersonfarms.com.
Thursday-Sunday September 23 - October 29 Reservations Open August 12, 2023 at 10 AM
Thursday:
Small: $75.00  (4 Hours)
Large: $150.00 (4 Hours)
Friday, Saturday & Sunday:
Small: $100.00 (4 Hours)
Large: $200.00 (4 Hours)
Staggered Start Times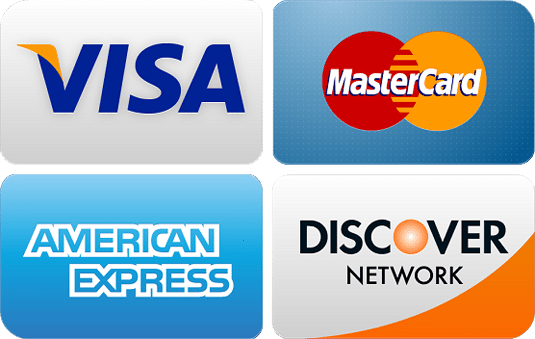 We Accept All Major Credit Cards