Why It's Great To Be Part Of The Zombie Paintball Hunt Team!
Zombie Paintball Hunt is the hardest fun job you'll ever have. We are in the business of creating family traditions and memories by providing fall family fun. Our guests come here expecting to have a fun experience and how we interact with them can make a difference.
As a Zombie, you will be impacting the experience of those who go through Zombie Paintball Hunt.  They have planned their adventure, driven and hour or more, and are expecting to have a exceptional experience.
As a Zombie, its your job to play the part of a Zombie running loose in a corn field. The guests are going to hunt Zombie's using the provided paintball guns and you'll be the zombie!  Sound fun?
If it doesn't, don't apply for a job.  Every year we have more applicants than we can possibly hire, so if you're not up for getting hit with paintballs for 3-4 hours a night, don't apply.  Fair enough?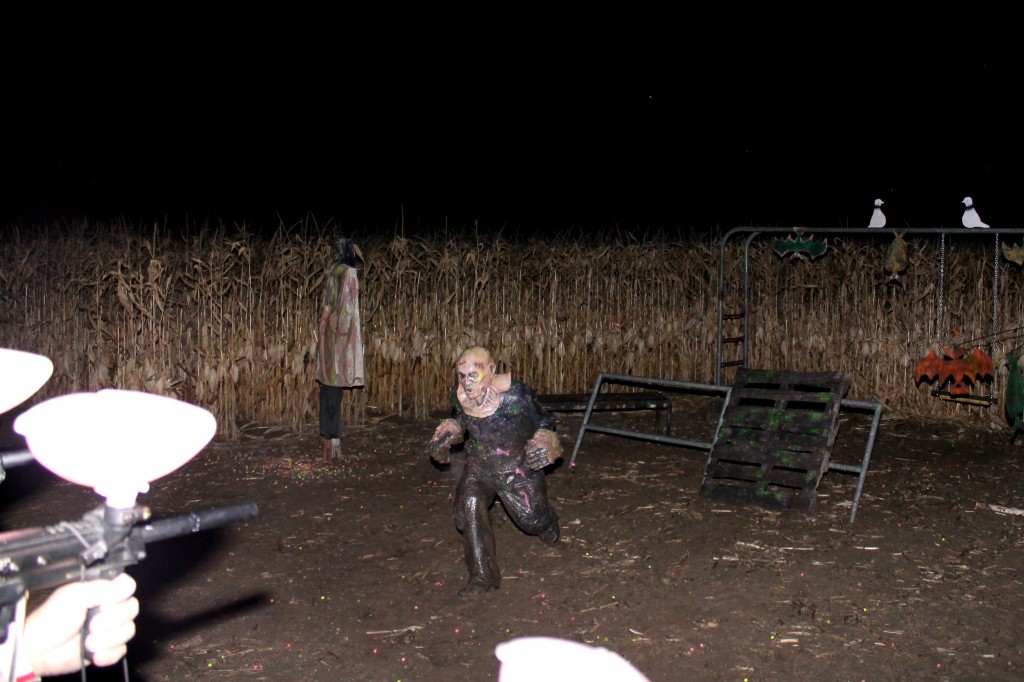 Please keep in mind that this job is conducted outdoors at night.  The weather in September and October can be very warm, very cold or somewhere in between.  We can have wind, rain or snow.  Be prepared to work in any of these conditions as we do not close unless it become unsafe for staff and customers.
This is a nighttime activity that is open from 7:00pm to 10:00pm or 11:00pm  Occasionally shifts may last later than 11:30pm if there are still customers in line. Staff is expected to arrive at 6:00 pm time to put on costumes and assume positions for the night.   You will be expected to stay until the last customer has gone through the Hunt.
---
For all positions, you must be:
Enthusiastic
Energetic
Reliable and punctual
Honest
At least 16 years old
Willing to work in a variety of weather conditions
Willing to be a target for paintball guns 3-4 hours a night
Able to work ALL WEEKENDS in October.  It is crucial to have all staff available on our busiest days of the season.  The calendar below shows all nights Zombie Paintball Hunt will be open, indicated with a red dot.  We will be open on Halloween night.
Sound like something you'd like to try?
Download an Seasonal Employment Application  and drop it off at the farm office, fax it to 303-828-4930, email to jobs@andersonfarms.com or mail to the address below.
Anderson Farms
6728 County Road 3 1/4
Erie, CO 80516
All applications will be reviewed and we will call qualifying applicants to schedule an interview.  Interviews will begin in late August.