Included with Admission: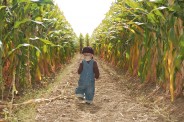 Colorado's Longest-Running Corn Maze – Get lost in our 30 acre corn maze! Search through all three sections to find the checkpoints or wander aimlessly if that is your style. The maze is open day and night and is never haunted. If you come after dark, remember to bring your flashlight! Don't forget to try our smaller maze for children 2-8 years old.  Click here for more information.
---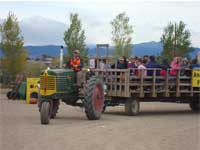 Hayride to the Pumpkin Patch Take a hayride out to the pumpkin patch on a wagon pulled by an antique Oliver tractor.  We have pumpkins as far as the eye can see!  With 30 acres and over 70 varieties of pumpkins, squash and gourds you'll be sure to find what you are looking for. Available from open until dark or one half hour before closing.
Note: Pumpkins are not included in the price of admission. Click here for pricing.
---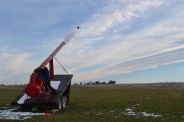 Pumpkin Launching – We've built a pressurized canon that can hurl small pumpkins up to ¼ mile! Guaranteed to land with a satisfying splat!
Launch Times: 11:00 – 6:00 hourly  Friday, Saturday & Sunday
---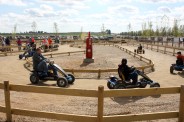 Barnyard 500 Pedal Karts – On your mark, get set, go! Race your friends around the track on our man powered go karts.  Two sizes are available so almost anyone can join in. Rides are unlimited!  Open: Day & Night
---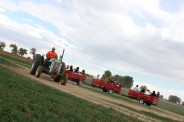 Mine Cars – Two words: Redneck Rollercoaster.  Rides are unlimited.
Open: Every day until dark
---
Barrel Train – Kids love this farm favorite! All aboard! Rides are unlimited.
Open: Day & Night
---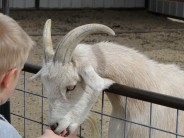 Farm Animals – Visit the barnyard and meet our animals. Goats, alpacas, chickens, ducks & geese. You might even get to see a baby or two!
---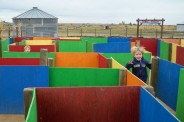 Krazy Rainbow Maze  – More fun than a barrel of monkeys!
Open: Day & Night
---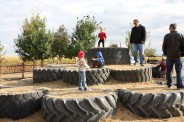 Tire Mountain – Head over to Kiddie Korral for a climbing adventure on the tire mountain.
Open: Day & Night
---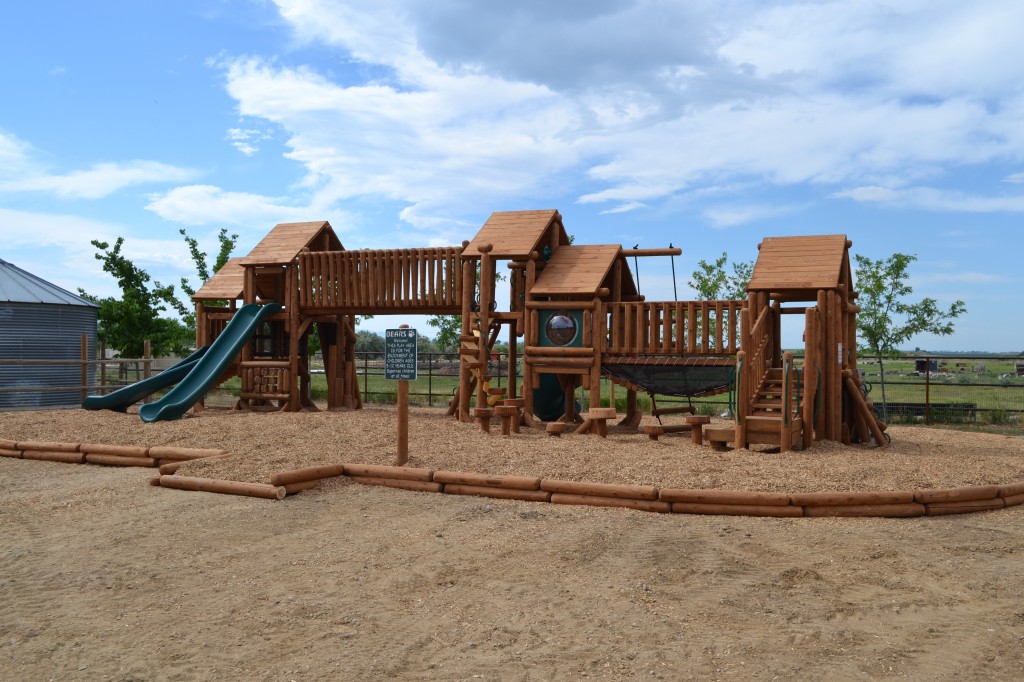 Fort A-Lot-A Fun – Hours of fun for kids of all ages!
Open: Day & Night
---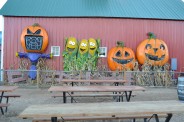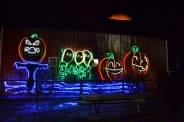 Farm Lights – Watch our characters come to life while they sing Halloween songs.  Open: 7:00 PM – Close Thursday – Sunday  (Every 30 minutes.)
---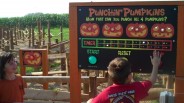 Punchin' Pumpkins – It's a race to tag the "pumpkins", light the lights and get your score!
Open: Day & Night