Pumpkin Creek Gem Mining
Every bag is different!
Gemstone Bag – view gemstones
Fossil Bag – view fossils
Emerald & Ruby Bag
*Prices vary $7.00 to $15.00 based on Gem Bag purchased.
---
Keep what you find!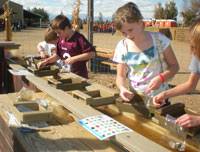 While visiting Anderson Farms, stop by Pumpkin Creek Gemstone Mining for some old fashioned fun. This area, including Erie and Carbon Valley, has a rich history of coal mining. Here at Anderson Farms, you can mine for gemstones and fossils. Try to collect them all! There are 40 gemstones and minerals, or 32 fossils potentially hidden in each bag of rough.
---
How do I get started?
Stop by Pumpkin Creek Gemstone Mining and pick out your bag of rough.  There are three to choose from; the gemstone bag, the fossil bag or the emerald and ruby bag.
Next, take your bag to the sluice. Place a handful of rough into the provided screened bottom box and wash it in the water.  You'll soon discover the treasures hidden in your bag!
This is an activity that children and parents can do together.  Spend 10 minutes or spend an hour!  Once you have found all your treasures, take them to our identification board to find out what you have